We'll have some special programming going on from the Main stage during the Alamo Expo on Saturday. You may want to plan your Expo visit at the Alamodome to enable you to spend a little extra time and enjoy some of these different speakers and/or performers.
Program - Alamo Health Expo, presented by University Health System
•  11 am - Directly following Run, Walk & Roll 1K
Random Drawings for participants in the 1K to giveaway of the recently released - 'Dream Big'.

It's a brand new book written by Dave McGillivrey, Race Director of the Boston Marathon. Dave's a guy who definitely dreams BIG and inspires others to do so too.  Kids (and parents) are going to love his new book!

Exhibition by Aerial Athletics Acrobatic Competitive & Training Team
Small Panel Discussion on Race Medical Preparation & Injury Prevention.
Moderated by Race Announcer Mark Purnell
•Dr. Annette Zaharoff, Medical Director for the Alamo Run Fest
•Results Physiotherapy – Panel member to be announced
Musician, Singer and Songwriter - Rylee Owens
Moderated by Race Announcer Mark Purnell
•Nick McCoy - U.S. Paralympic Team, Wheelchair Track
•Anita Perez - 2016 & 2020 U.S. Olympic Marathon Trials Qualifier
•Gary Brimmer - Head Track & Field/Cross Country Coach Central Catholic High, has coached 5 Women to the level of Olympic
    Marathon Qualifiers, also an accomplished and avid runner.
More to come before Sunday's Races… Let's get Ready to Run!
All race participants are required to stop by the Expo on Saturday to pick up their race packets,
which will include bib number, timing tag, t-shirt and bag. These are not available on race day.

Over 60 vendors are expected for this year's Expo that will showcase sports nutrition, running apparel, shoes and accessories, tips on fitness, health and wellness plus plenty of healthy products to sample. (See  exhibitor list from 2017 below.) On Sunday, the Expo becomes part of the Post-event festivities since the Finish Line for all events is directly adjacent to the Alamo Expo area!

University Health System will also be providing FREE  Glucose Health Assessments all day Saturday during the Alamo Expo! Have friends or family who could benefit?... Bring them along!

The Expo takes place on the floor of the Alamodome and is a great event for all runners, seasoned and serious, hobby level or just starting out. It's also a great place for family and friends to cheer you across the finish line and think about participating in the future.

The Expo is free and open to the public, and where you can purchase all of your Official 2018 Alamo Run Fest event merchandise.

There will be a number of informative seminars taking place at various times during the Expo, as well as entertainment, so be sure to check the schedule on topics and speakers, closer to event weekend. The Expo will also be the place to ask any last-minute questions you have about the race courses and other race weekend activities. 

If you are from out of town it is our sincere hope that your visit includes not only a great race event experience, but also a wonderful time exploring some of the great sights and landmarks that are all around in this vibrant and visitor-friendly city.

List of Exhibitors - 2018 Alamo Expo 

Fleet Feet Sports San Antonio
Air Relax Compression Boots
Results Physiotherapy
Critical Nurse Staffing
Joy From a Bottle
SPI BELT
Labrada Nutition
Foresters Financial Services
Southern Journeys
Honey Badger
Infinite Alchemy Gear
Bath Planet
Resort Vacations Inc
Texas Tea
Yerbae Sparkling Water
Zenify
PaperChef Parchment
Nature's Truth Vitamins
Kodiak Cakes
LasikPlus
Kelley Honey Farms
Resort World Pass
Camp Gladiator
Colgate Palmolive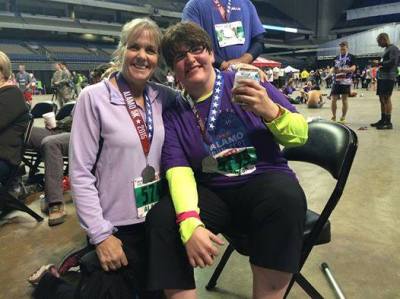 Texas Regional Paralympic Sport (TRPS)
South Texas Regional Adaptive Paralympic Sport (STRAPS)
City of San Antonio Office of Historical Preservation
Team 413 – Gracerunner Ministries
Military Warriors Support Foundation
US Army ROTC – UTSA/St. Mary's University
CareLink
University Fitness
Isagenix -  Transform your body
Cool Shades
US Army Recruiting
Health & Vascular Institute – Inflatable Heart
Stroke Awareness – Inflatable Brain

Alamo Run Fest Offical Merchindise
Marvel Studios - Avengers Infinity War - 9 to noon only

Play Life Nation - 9 to noon only

FREE Glucose/Cholesterol Screenings - UHS
Women's Preventative Health Services
CFGP Gov't Programs
Diabetes Education
University Medical Associates