ALAMO HEALTH & FITNESS EXPO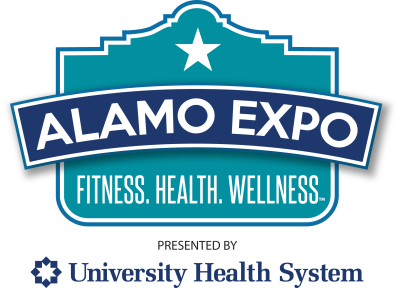 All race participants are required to stop by the Expo on Saturday to pick up their race packets, which will include bib number, timing tag, t-shirt and bag. These are not available on race day.

Over 60 vendors are expected for this year's Expo that will showcase sports nutrition, running apparel, shoes and accessories, tips on fitness, health and wellness plus plenty of healthy products to sample. (See  exhibitor list from 2017 below.) On Sunday, the Expo becomes part of the Post-event festivities since the Finish Line for all events is directly adjacent to the Alamo Expo area!

University Health System will also be providing FREE  Glucose Health Assessments all day Saturday during the Alamo Expo! Have friends or family who could benefit?... Bring them along!

The Expo takes place on the floor of the Alamodome and is a great event for all runners, seasoned and serious, hobby level or just starting out. It's also a great place for family and friends to cheer you across the finish line and think about participating in the future.

The Expo is free and open to the public, and where you can purchase all of your Official 2018 Alamo Run Fest event merchandise.

There will be a number of informative seminars taking place at various times during the Expo, as well as entertainment, so be sure to check the schedule on topics and speakers, closer to event weekend. The Expo will also be the place to ask any last-minute questions you have about the race courses and other race weekend activities. 

If you are from out of town it is our sincere hope that your visit includes not only a great race event experience, but also a wonderful time exploring some of the great sights and landmarks that are all around in this vibrant and visitor-friendly city.


List of Exhibitors - 2017* Alamo Expo 
H-E-B
University Health System 
Microsoft
Body Armor
Texas Regional Paralympic Sport
Twenty-Six Two Marathon Club
Nature's Way Brands
Mauer Sports Nutrition Inc.
Kelley Honey
Carelink – University Health System
Palenque Grill
Fleet Feet Sports San Antonio
Avocados from Mexico
Dairy Max
Cobram Estate – Extra Virgin Olive Oil
Florida Department of Citrus
Lean Body by Labrada Nutrition 
UTSA ARMY ROTC
Key to the Kingdom Jewelry Collection
Returning Heroes Home
Women's Services – University Health System
Gold's Gym
Glucose Health Screenings - University Health System 
Real Time Pain Relief
Whey 2 be Protein Cookies
USA Sport
Ancira Auto Group
Resort World
The Nature's Bounty Co.
Piping Rock Health Products

SPI Belt
iRunTexas
Morgan's Wonderland
Johnson & Johnson
Joy from a Bottle
Infinite Alchemy Gear
Forrester's Financial Services
Zenify
Bondi Band
Wimberley Glassworks
Research – University Health System
San Antonio Clubhouse
Paper Chef Parchment Paper
Airtron
Perfect Fit Meals
Kodiak Cakes
Texas Beef Council
Community First Health Plans
Lotus Energy Drink
Mammachia
Rythym Supper Foods
Lean Cuisine
Fit Kitchens
Global Exchange Vacation Club
Red Fox Wireless
Colgate Dental 
Southern Journeys


List of Exhibitors - 2017* Alamo Expo  
* List of the 2018 Expo Exhibitors will be added/updated soon...